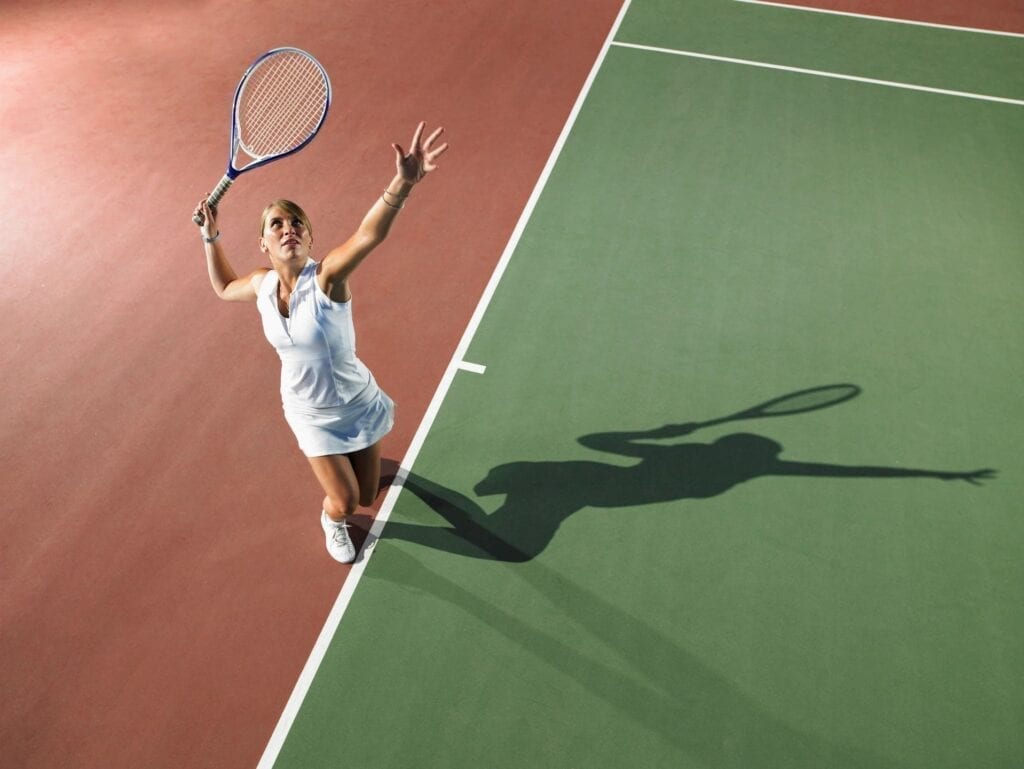 Impact of COVID-19 on Mental Health
In my blog from May 2020 titled "Effects of the Pandemic: Mental Health Crisis", I discussed the emerging mental health crisis driven by social isolation, worry about your own health and the health of your loved ones, job loss, and financial instability, all of which have been exacerbated by the COVID-19 pandemic that continues to this day. Fear and anxiety about a new disease and what could happen can be overwhelming and cause strong emotions in adults, and especially in children. Since the time of that writing, we have been hit by the additional stressors of national social unrest related to police brutality, racial discrimination, and other issues. Additional uncertainty is created by school re-openings or lack thereof, managing our stay-at-home children probably till the end of the year, the economic downturn, and the upcoming election and it's impact on our lives and livelihoods.
And the biggest question of all: when will all this end and when can we get back to a 'normal' life. Taken together, these conditions create an increasing feeling of stress and anxiety that could lead to deteriorating mental health, mental fatigue, and even depression.
Mental Health of Children or Adolescents
School closures to slow the spread of the coronavirus could affect families beyond a disruption in their child's education. Guidance from the Centers for Disease Control and Prevention (CDC) regarding long-term school closures states that students depending on school services such as meal programs and physical, social, and mental health services will be impacted and that mental health issues may increase among students due to fewer opportunities to engage with peers. Existing mental illness among adolescents may be exacerbated by the pandemic, and with school closures, they will not have the same access to key mental health services. According to the National Survey of Children's Health, from 2016-2018, over three million (12%) adolescents ages 12 to 17, or more than one in ten, had depression and/or anxiety. Suicidal ideation is another major mental health risk among adolescents. Suicidal thoughts and suicide rates among adolescents have increased over time. Additionally, substance use is a concern among adolescents. Research shows that substance use among teens often occurs with other risky behaviors and can lead to substance use problems in adulthood. In 2017, more than one in ten high school students reported using illicit drugs (14%) or misusing prescription opioids (14%).
What is Mental Illness
Mental illness, also called mental health disorders, refers to a wide range of mental health conditions — disorders that affect your mood, thinking and behavior. Examples of mental illness include depression, anxiety disorders, schizophrenia, eating disorders and addictive behaviors.
Many people have mental health concerns from time to time. But a mental health concern becomes a mental illness when ongoing signs and symptoms cause frequent stress and affect your ability to function. A mental illness can make you miserable and can cause problems in your daily life, such as at school or work or in relationships. In most cases, symptoms can be managed with a combination of medications and talk therapy (psychotherapy).
Symptoms of Mental Illness
Signs and symptoms of mental illness can vary, depending on the disorder, circumstances and other factors. Mental illness symptoms can affect emotions, thoughts and behaviors.
Examples of signs and symptoms include:
Feeling sad or down
Confused thinking or reduced ability to concentrate
Excessive fears or worries, or extreme feelings of guilt
Extreme mood changes of highs and lows
Withdrawal from friends and activities
Significant tiredness, low energy or problems sleeping
Detachment from reality (delusions), paranoia or hallucinations
Inability to cope with daily problems or stress
Trouble understanding and relating to situations and to people
Problems with alcohol or drug use
Major changes in eating habits
Excessive anger, hostility or violence
Suicidal thinking
Sometimes symptoms of a mental health disorder appear as physical problems, such as stomach pain, back pain, headaches, or other unexplained aches and pains.
If you have any signs or symptoms of a mental illness, see your primary care provider or a mental health professional. Most mental illnesses don't improve on their own, and if untreated, a mental illness may get worse over time and cause serious problems.
If your loved one shows signs of mental illness, have an open and honest discussion with him or her about your concerns. You may not be able to force someone to get professional care, but you can offer encouragement and support. You can also help your loved one find a qualified mental health professional and make an appointment. You may even be able to go along to the appointment.
If your loved one has done self-harm or is considering doing so, take the person to the hospital or call for emergency help.
What is Mental Health and Well-Being
Mental health includes emotional, psychological, and social well-being. Wellness or well-being is an active process of becoming aware of and making choices toward a healthy and fulfilling life. Wellness is more than being free from illness, it is a dynamic process of change and growth.
"Wellness is…a state of complete physical, mental, and social well-being, and not merely the absence of disease or infirmity."
– The World Health Organization
Your mental health influences how you think, feel, and behave in daily life. It also affects your ability to cope with stress, overcome challenges, build relationships, and recover from life's setbacks and hardships.
Strong mental health isn't just the absence of mental health problems. Being mentally or emotionally healthy is much more than being free of depression, anxiety, or other psychological issues. Rather than the absence of mental illness, mental health refers to the presence of positive characteristics.
People who are mentally healthy have:
A sense of contentment
A zest for living and the ability to laugh and have fun.
The ability to deal with stress and bounce back from adversity.
A sense of meaning and purpose, in both their activities and their relationships.
The flexibility to learn new skills and adapt to change.
A balance between work and play, rest and activity, etc.
The ability to build and maintain fulfilling relationships.
Self-confidence and high self-esteem.
Taking Control of Your Mental Health
Whether you're looking to cope with a specific mental health problem, handle your emotions better, or simply to feel more positive and energetic, there are plenty of ways to take control of your mental health—starting today.
Anyone can suffer from mental or emotional health problems—and over a lifetime most of us will. This year alone, about one in five of us will suffer from a diagnosable mental disorder. Yet, despite how common mental health problems are, many of us make no effort to improve our situation.
We ignore the emotional messages that tell us something is wrong and try toughing it out by distracting ourselves or self-medicating with alcohol, drugs, or self-destructive behaviors. We bottle up our problems in the hope that others won't notice. We hope that our situation will eventually improve on its own. Or we simply give up—telling ourselves this is "just the way we are."
The good news is: you don't have to feel bad. There are practices you can adopt to elevate your mood, become more resilient, and enjoy life more. But just as it requires effort to build and maintain physical health, so it is with mental health. We have to work harder these days to ensure strong mental health, simply because there are so many ways that life takes a toll on our emotional well-being.
In order to promote positive mental health and well-being, there are various dimensions of wellness that need to be addressed, these are in the "Wellness Wheel" below. Sit down with a paper and pencil, and assess yourself in all of these dimensions. Then, leveraging the descriptions and self-help tools, ideas, and tips below, come up with your own plan to address each of these dimensions, to achieve your goal of positive mental health.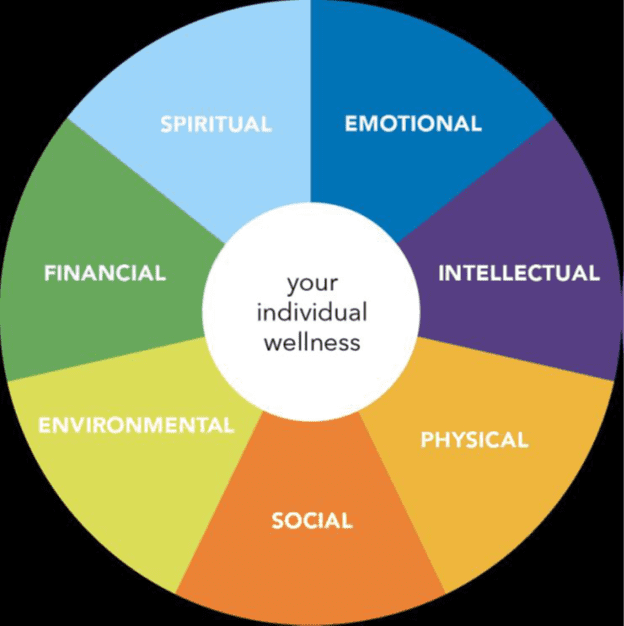 SOCIAL – Make social connection a priority—especially face-to-face
No matter how much time you devote to improving your mental and emotional health, you will still need the company of others to feel and function at your best. Humans are social creatures with emotional needs for relationships and positive connections to others. We're not meant to survive, let alone thrive, in isolation. Our social brains crave companionship—even when experience has made us shy and distrustful of others.
Phone calls and social networks have their place, but nothing can beat the stress-busting, mood-boosting power of quality face-to-face time with other people. The key is to interact with someone who is a "good listener"—someone you can regularly talk to in person, who will listen to you without their own conceptions of how you should think or feel. A good listener will listen to the feelings behind your words, and won't interrupt, judge, or criticize you.
Reaching out is not a sign of weakness and it won't make you a burden to others. Most people are flattered if you trust them enough to confide in them. If you don't feel that you have anyone to turn to, there are good ways to build new friendships and improve your support network. In the meantime, there is still a great benefit to interacting face-to-face with acquaintances or people you encounter during the day, such as neighbors, people in the checkout line or on the bus, or the person serving you your morning coffee. Make eye contact and exchange a smile, a friendly greeting, or small talk.
PHYSICAL – Staying active is as good for the brain as it is for the body
The mind and the body are intrinsically linked. When you improve your physical health, you'll automatically experience greater mental and emotional well-being. Physical activity also releases endorphins, powerful chemicals that lift your mood and provide added energy. Regular exercise or activity can have a major impact on mental and emotional health problems, relieve stress, improve memory, and help you to sleep better.
However, not everyone enjoys physical activity, especially rigorous exercise. Pounding weights in a gym or jogging on a treadmill isn't everyone's idea of a great time. But you don't have to be a fitness fanatic to reap the benefits of being more active. Take a walk at lunchtime through a park, walk laps in an air-conditioned mall while window shopping, throw a Frisbee with a dog, dance to your favorite music, play activity-based video games with your kids, cycle or walk to an appointment rather than drive.
You don't have to exercise until you're soaked in sweat or every muscle aches. Even modest amounts of physical activity can make a big difference to your mental and emotional health—and it's something you can engage in right now to boost your energy and outlook and help you regain a sense of control.
INTELLECTUAL – Learn, explore, and expand your knowledge and skills
Intellectual wellness encourages us to engage in creative and mentally-stimulating activities. These activities should expand your knowledge and skills while allowing you to share your knowledge and skills with others. Intellectual wellness can be developed through reading, listening to podcasts, cultural involvement, community involvement and personal hobbies. As intellectual wellness develops, you will be able to develop personal resources that work together with the other realms of wellness in order to achieve a more balanced life.
Intellectual wellness encourages learning. It is important to explore new ideas and understandings in order to become more mindful and better-rounded. Having an optimal level of intellectual wellness inspires exploration. Intellectual wellness also stimulates curiosity. Curiosity is important because it motivates you to try new things and develop an understanding of how you see the relationship between yourself, others and the environment.
In order to begin the route to intellectual wellness, you must remember to be open-minded. Be open to new ideas, new cultures, new knowledge, new skills and new environments. When you have an open mind, the world is truly yours. This allows you to explore issues related to problem solving, critical thinking, learning and creativity. Below is a list of suggestions for you to adopt in order to enhance your intellectual wellness.
Be open-minded.
Listen. When you participate in active listening you are able to fully comprehend the information that is being given to you.
Pick up a hobby. Hobbies are great ways to increase your skill set. They can also be fun!
Travel. The best way to gain knowledge as well as an appreciation for another culture is to experience it yourself.
Express your creative side by exploring different avenues of creativity and artistic expressions.
EMOTIONAL – Stress reduction, inner strength, optimism, self-confidence
Emotional wellness inspires self-care, relaxation, stress reduction and the development of inner strength. It is important to be attentive to both positive and negative feelings and be able to understand how to handle these emotions. Emotional wellness also includes the ability to learn and grow from experiences. Emotional well-being encourages autonomy and proper decision-making skills. It is an important part of overall wellness.
Emotional wellness allows you to accept how you are feeling. Once you accept your feelings, you can begin to understand why you are feeling that way, and decide how you would like to act in response to those feelings. Being emotionally well grants you the power to express feelings without any constraints. In turn, you will be able to enjoy emotional expression and be capable of forming supportive and interdependent relationships with others.
In order to begin the route to emotional wellness you must always remember to be optimistic. Optimism allows you to greet all emotions—both positive and negative—with a confident attitude that allows you to learn from your mistakes. Once you have mastered emotional wellness, you will experience life a little differently. Your life will be more balanced and you will develop a deep sense of awareness. Below are some strategies for you to practice in order to boost your emotional wellness.
Remind yourself to stay positive, always.
Smile.
Seek or accept help and support from others when needed.
Employ gratitude to your life in order to strengthen relationships with family and friends.
Practice being mindful and increase your awareness. This can be done through various forms of meditation.
Accept mistakes and learn from them for next time. Mistakes are not terrible experiences; they are learning experiences.
Balance your other dimensions of Wellness.
SPIRITUAL – Find purpose and meaning in life
Everyone derives meaning and purpose in different ways that involve benefiting others, as well as yourself. You may think of it as a way to feel needed, feel good about yourself, a purpose that drives you on, or simply a reason to get out of bed in the morning. In biological terms, finding meaning and purpose is essential to brain health as it can help generate new cells and create new neural pathways in the brain. It can also strengthen your immune system, alleviate pain, relieve stress, and keep you motivated to pursue the other steps to improve mental and emotional health.
There are various ways you can derive meaning and purpose in life:
Engaging work that provides meaning to yourself and others. Partake in activities that challenge your creativity and make you feel productive, whether or not you get paid for them. Some ideas are gardening, drawing, writing, playing an instrument, or building something in your workshop.
Relationships. Spending quality time where you give of yourself to people who matter to you, whether they're immediate family, friends, grandkids, or elderly relatives, can support both your health and theirs, while also providing a sense of purpose.
Caring for a pet. Yes, pets are a responsibility, but caring for one makes you feel needed and loved. There's no love quite as unconditional as the love a pet can give. Animals can also get you out of the house for exercise and expose you to new people and places.
Volunteering. Just as we're hard-wired to be social, we're also hard-wired to give to others. The meaning and purpose derived from helping others or the community can enrich and expand your life—and make you happier. There's no limit to the individual and group volunteer opportunities you can explore. Schools, churches, nonprofits, and charitable organizations of all sorts depend on volunteers for their survival.
Care-giving. Taking care of an aging parent, a handicapped spouse, or a child with a physical or mental illness is an act of kindness, love, and loyalty—and can be as rewarding and meaningful as it is challenging.
FINANCIAL – manage financial expenses, make a budget
Financial Wellness involves the process of learning how to successfully manage financial expenses. Money plays a critical role in our lives and not having enough of it impacts health as well as individual performance. Financial stress is repeatedly found to be a common source of stress, anxiety and fear. Keeping track of expenses, making a budget, and sticking to it are important skills to have in order to be financially responsible and independent.
There are an array of resources online as well as workshops and programs that can guide you toward money-managing success. Everyone's financial situation is different, so it is up to you to select the proper mix of resources that work best according to your needs. The most important point to remember is that maximizing financial wellness is a process that does not occur immediately. Be proactive by seeking related resources and learning about money-managing strategies to build your financial wellness.
Financial Wellness Tips:
Don't put it off – identify and address any financial problems before they start.
Keep organized records of your finances.
Take advantage of discounts and sales.
Plan ahead and set budget goals.
Balance your other dimensions of Wellness, they all tie in to financial wellness as well.
ENVIRONMENTAL – Respect nature, protect the environment, encourage conservation
Environmental wellness inspires us to live a lifestyle that is respectful of our surroundings. This realm encourages us to live in harmony with the Earth by taking action to protect it. Environmental well-being promotes interaction with nature and your personal environment. Everyone can have a strong environmental consciousness simply by raising their awareness.
The core principle of environmental wellness is respect—respect for all nature and all species living in it. Environmental wellness does not mandate that you join a movement or organization, but it does encourage you to practice habits that promote a healthy environment. When you become environmentally aware, you will be able to realize how your daily habits affect the environment. Improving environmental wellness is simple and results in a more balanced lifestyle.
Once the route to environmental wellness begins, it becomes incredibly easy to carry out. There are many environmentally conscious practices you can adopt in order to improve your relationship with the environment. Conservation is at the root of it all. Below is a list of a few suggestions to help you become more environmentally aware.
Conserve energy.
Recycle.
Volunteer with environmental organizations.
Become aware of Earth's natural resources. Identify and understand the role of our natural resources.
Spend time outdoors and boost your vitamin D at the same time!
If you've made consistent efforts to improve your mental and emotional health and still aren't functioning optimally at home, work, or in your relationships, it may be time to seek professional help. Following the above self-help steps will still benefit you, though. In fact, input from a caring professional can often help motivate us to take better care of ourselves.
Resources
https://www.thsp.co.uk/2017/10/10-ways-promote-positive-mental-health/
https://www.cdc.gov/coronavirus/2019-ncov/downloads/considerations-for-school-closure.pdf
https://www.mayoclinic.org/diseases-conditions/mental-illness/symptoms-causes/syc-20374968
https://www.helpguide.org/articles/mental-health/building-better-mental-health.htm
https://uhs.umich.edu/tenthings